R 1200 GS
Starting from ₹ 15,85,000
₹ 32,666 per month with BMW Financial Services
*Price prevailing at the time of invoicing will be applicable. Delivery will be made on ex-showroom basis.Ex-showroom prices inclusive of GST (incl.compensation cess)@31% as applicable all bikes except G 310 R and G 310 GS which are at 28%,but excludes Road Tax,RTO statutory taxes/fees,other local tax/cell levies and insurance. Prices and options are subject to change without prior notice. For further information,please contact your Local Authorised BMW Motorrad Dealer.@ As on July 18,2018.

All motorcycles are supplied only with equipment required by law (e.g. reflectors as per Euro 4 standard). Illustrations on this website may differ from this.
All motorcycles are supplied only with equipment required by law (e.g. reflectors as per Euro 4 standard). Illustrations on this website may differ from this.
THE BMW R 1200 GS.
Yet more adventure.
THE BMW R 1200 GS. More GS is impossible. It founded the dual-sport motorcycle segment – and is still leading it confidently today. The diversity – roads, cross-country, urban, countryside, comfort, performance – combined with the legendary robustness and the expertise from over 36 years of GS development result in a motorcycle which shies away from no competitors. A great many test triumphs and awards in technical magazines provide impressive proof of this. The R 1200 GS has always been inspiring. The new model goes one better: both in terms of its touring suitability and off-road performance. Which means for you: increased comfort, dynamics and more fun. In short: yet more adventure.
The design of the R 1200 GS
Choose your style.
With two different basic colours and the two new styles – Exclusive and Rallye – you can now adapt the R 1200 GS even more to suit your individual preferences. The styles comprise a colour design with specially attuned standard equipment.
3 years warranty.
Ride on & on & on. We`re giving you an extra year. 
Now there's a 3-year warranty on all motorcycles. 

Robust. Dynamic. Strong character.
Wherever the journey takes you, the R 1200 GS is bound to draw all the looks. From the front to the back – the striking GS line style signalises its unquenchable thirst for adventure. High-quality design elements and attractive colours and styles make the new GS irreplaceable. The main frame colour can be selected in three different finishes. Details like the galvanised radiator cowl allude to the increased visual robustness. Even stainless steel is used in the styles. Furthermore, the Exclusive and Rallye styles have their own, style-forming accents: from the tank trim right up to the GS lettering. The R 1200 GS has never been more individual – just like you.
+ Read more
Ready for everything that is to come.
Ready for everything that is to come.
Innovations like the front spray guard, wind guiding wing elements and offroad protective parts make your GS even more robust. In doing so, the latest technology reacts even more acutely to the different conditions and supports you in difficult situations. Equipped as robustly as this, you can conquer every corner of the globe with your GS.
+ Read more
Perfect handling.
Perfect handling.
The firm main frame with the engine as a supporting element ensures a low centre of gravity and in turn alleviates handling while at the same time enormous lane stability. The paralever and telelever suspension elements enable a perfectly tuned riding performance on any terrain.
+ Read more
Twin-cylinder boxer engine
92
kW (125 HP) at 7,750 rpm
244
kg unladen weight, fully fuelled/road-ready
Air/liquid-cooled four-stroke twin-cylinder boxer engine
Power for every situation.
Power for every situation.
Tried, tested and proven under the highest load again and again: the twin-cylinder boxer engine with 92 kW (125 HP). It is efficient and has very high torque: for noticeable riding enjoyment in any situation. And yet the boxer is not only legendary for its reliability. It is also extremely good-natured. The wet clutch with anti-hopping function and the electric throttle facilitate a fine dosage of power.
+ Read more
Experience the sound of the R 1200 GS
An icon meets technology.
The R 1200 GS, has the latest developments when it comes to technology, comfort and safety fitted. And so the riding modes "Rain" and "Road" as well as the "Automatic Stability Control" are available right from the entry-level model. As special equipment, you get countless other assistance and safety systems – like for instance the electronically controlled dynamic ESA chassis of the next generation. Further, the special equipment Pro riding modes offer many other assistance and safety systems. Like for instance start control, which among other things also makes it easier to start when on an incline. The dynamic traction control DTC also sensitively intervenes when on inclines and ensures increased safety and riding dynamics. ABS Pro also helps when leaning to apply the brakes in doses and in so doing diffusing hazardous situations. And the dynamic brake light warns traffic behind in the case of reflex braking.
+ Read more
Connectivity.
Connectivity.
BMW Motorrad Connectivity provides motorcyclists with an innovative solution for daily navigation, using multimedia and riding-related information with the clearest layout and intuitive operations: connecting the motorcycle, smartphone and helmet via Bluetooth results in completely new possibilities. The multi-controller ensures that the functions are easy to operate at all times. The traditional electronic instrument cluster gives way to a large, clear TFT display, which gives the rider constant access to navigation, phone calls, media and additional vehicle information as well as information that was previously displayed, such as speed and revs. On top of this, there are more additional functions available with the free BMW Motorrad Connected App. Connectivity gives motorcyclists the opportunity to focus on what really matters once again: the streets waiting to be discovered.
+ Read more
Riding Modes.
Riding Modes.
With the latest generation of riding modes, you always have the right grip. Alongside the standard riding modes "Rain" and "Road", you can personalise your motorcycle for even more sub surfaces with the additionally available riding modes (dynamic and Enduro). With just one button, you have the right mode set in a matter of seconds, because your adventure shouldn't come with any breaks.
+ Read more
Hill Start Control.
Hill Start Control.
The Hill Start Control makes starting on inclines and descents easier. By intervening into the partially integrated ABS brake system, the brake pressure in the rear brake system is held automatically. Your advantage: you no longer have to actuate the brake lever the whole time in order to avoid the vehicle from inadvertently rolling back. Ideal for adventure in the mountains.
+ Read more
Dynamic ESA.
Dynamic ESA.
With the latest Dynamic ESA generation, the first class riding comfort has been increased once again. Dynamic ESA adjusts the suspension depending on the riding status and riding manoeuvres automatically to suit the conditions. Even with different loads, the optimal initial spring pre-tension on the rear spring strut and the corresponding damping force at the spring elements are provided always ensured. For even more stability, safety, performance and comfort when riding.
+ Read more
Even more protection. Even more safety. Even more reliability. An even better appearance. With the extensive range of equipment and special accessories, you can optimise your machine exactly how you need it. Reworked cylinder protectors, topcase for two helmets, even off-road protective parts like cooler grills and frame guards or luggage systems. Making the GS your own.
+ Read more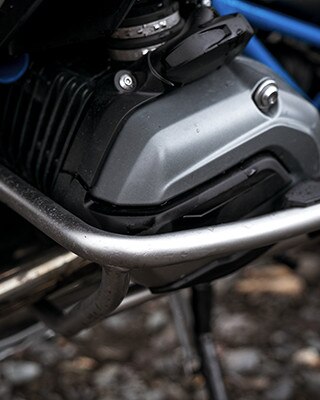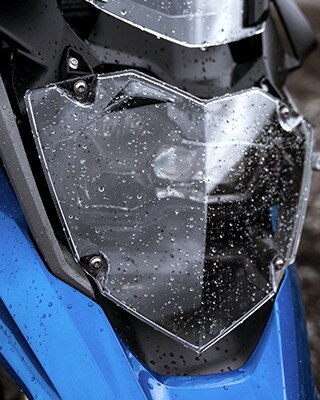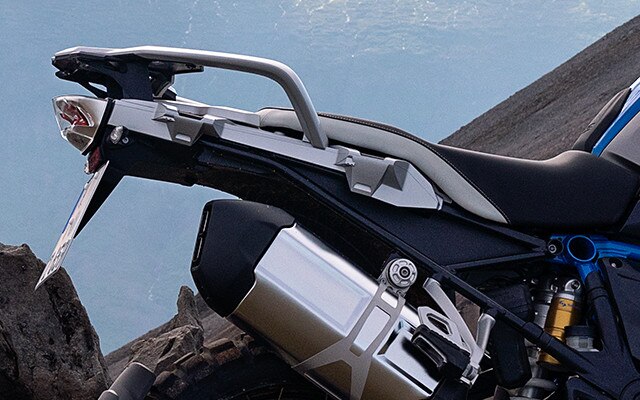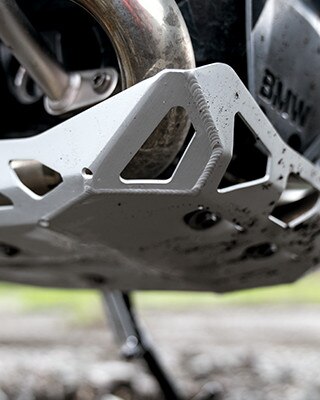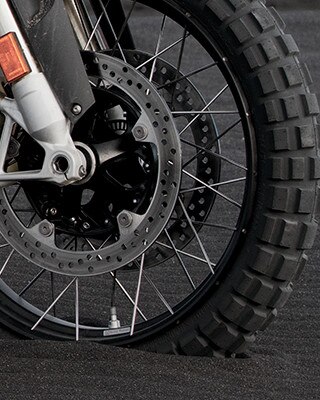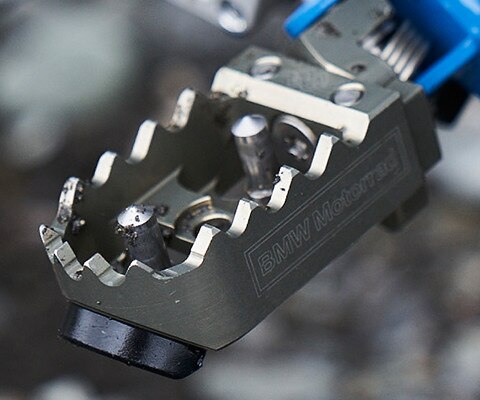 LED headlights with daytime riding light.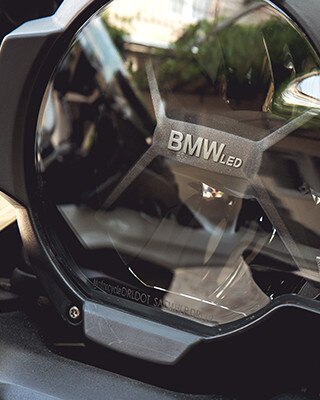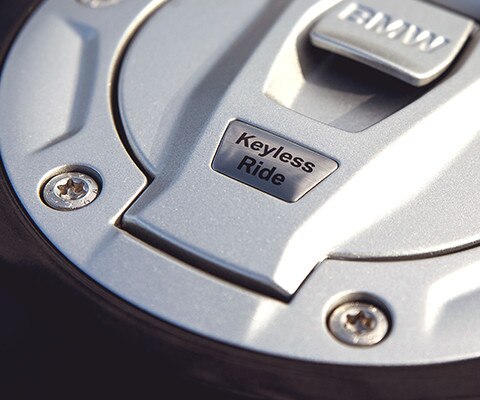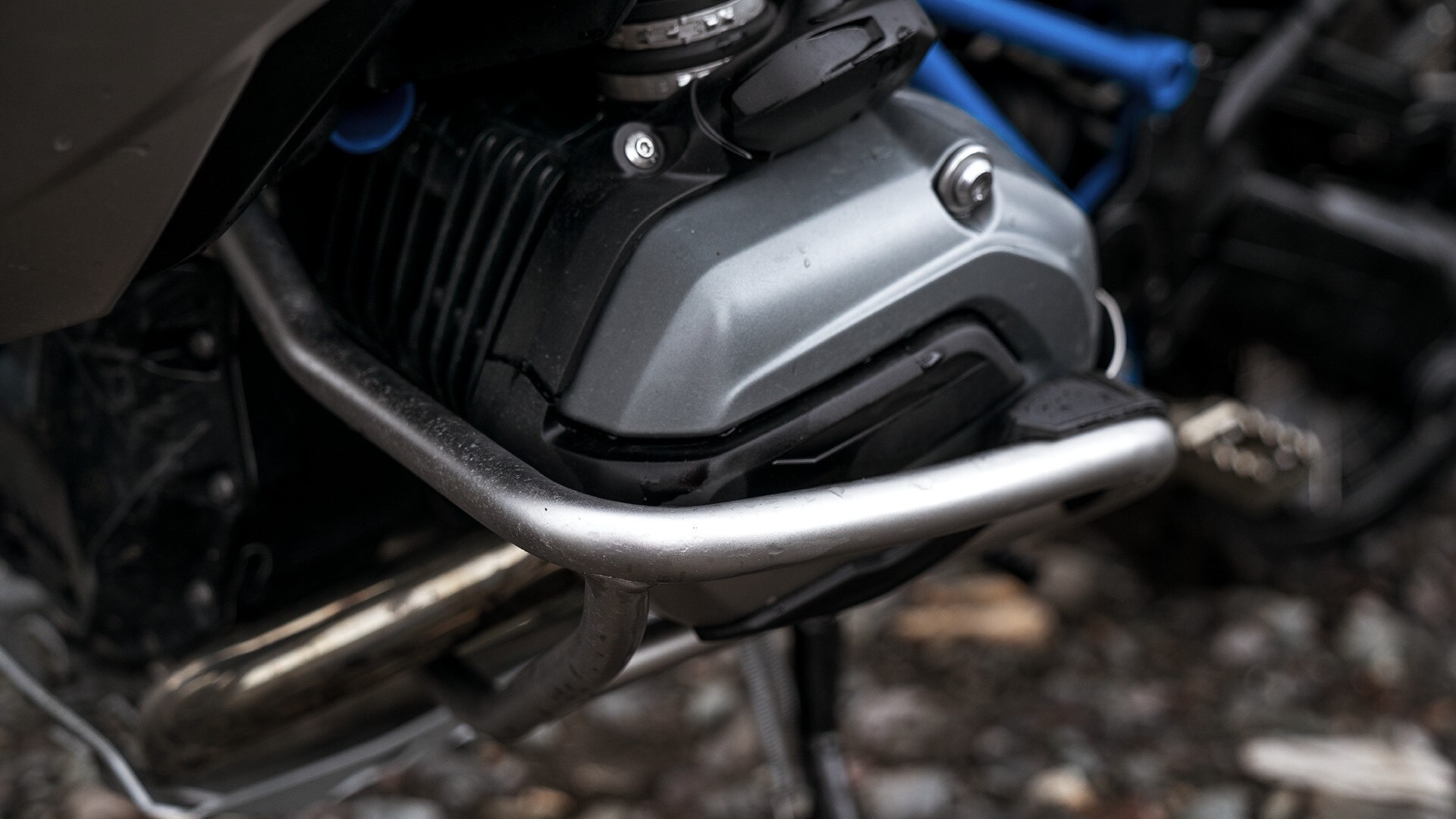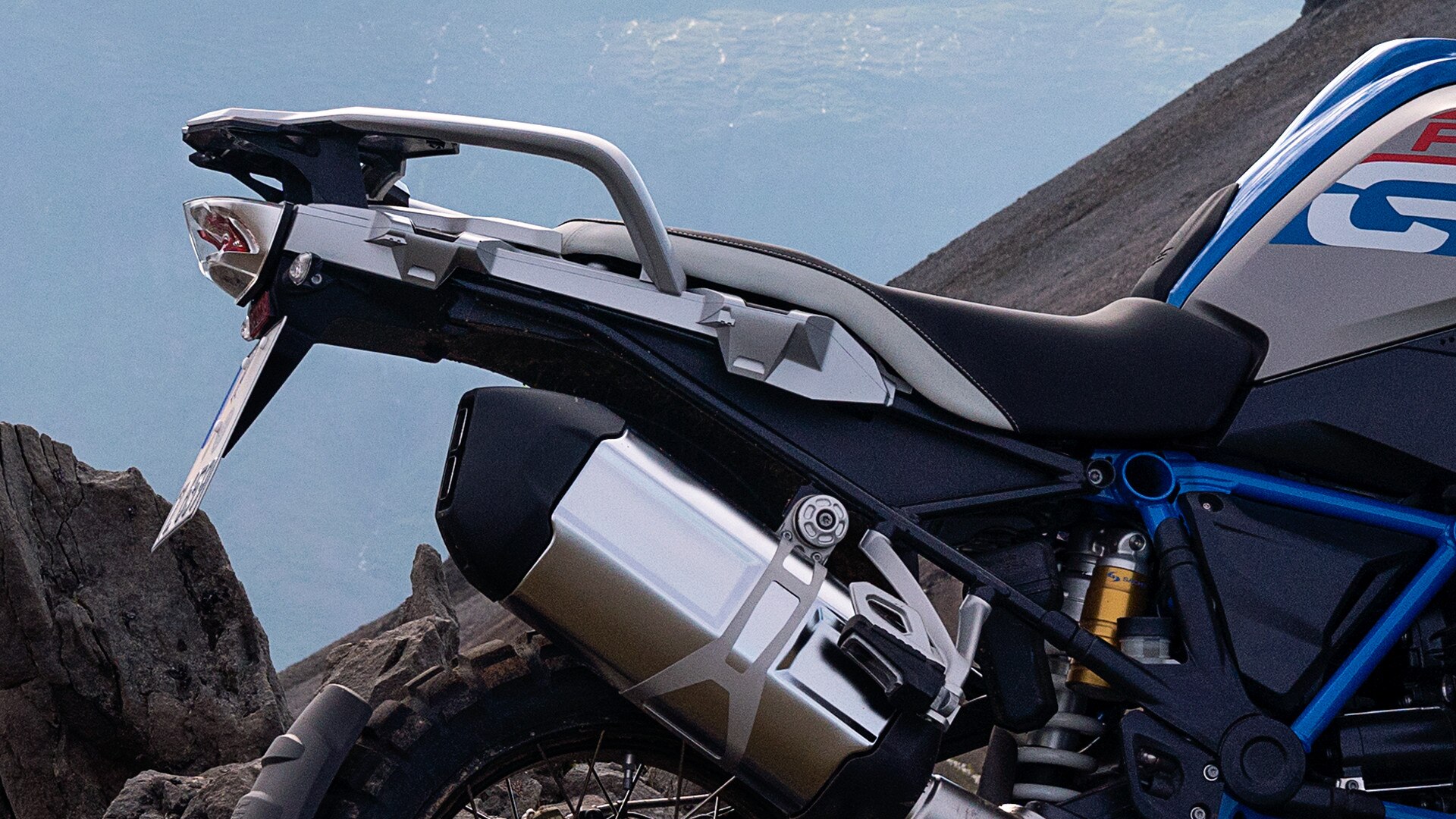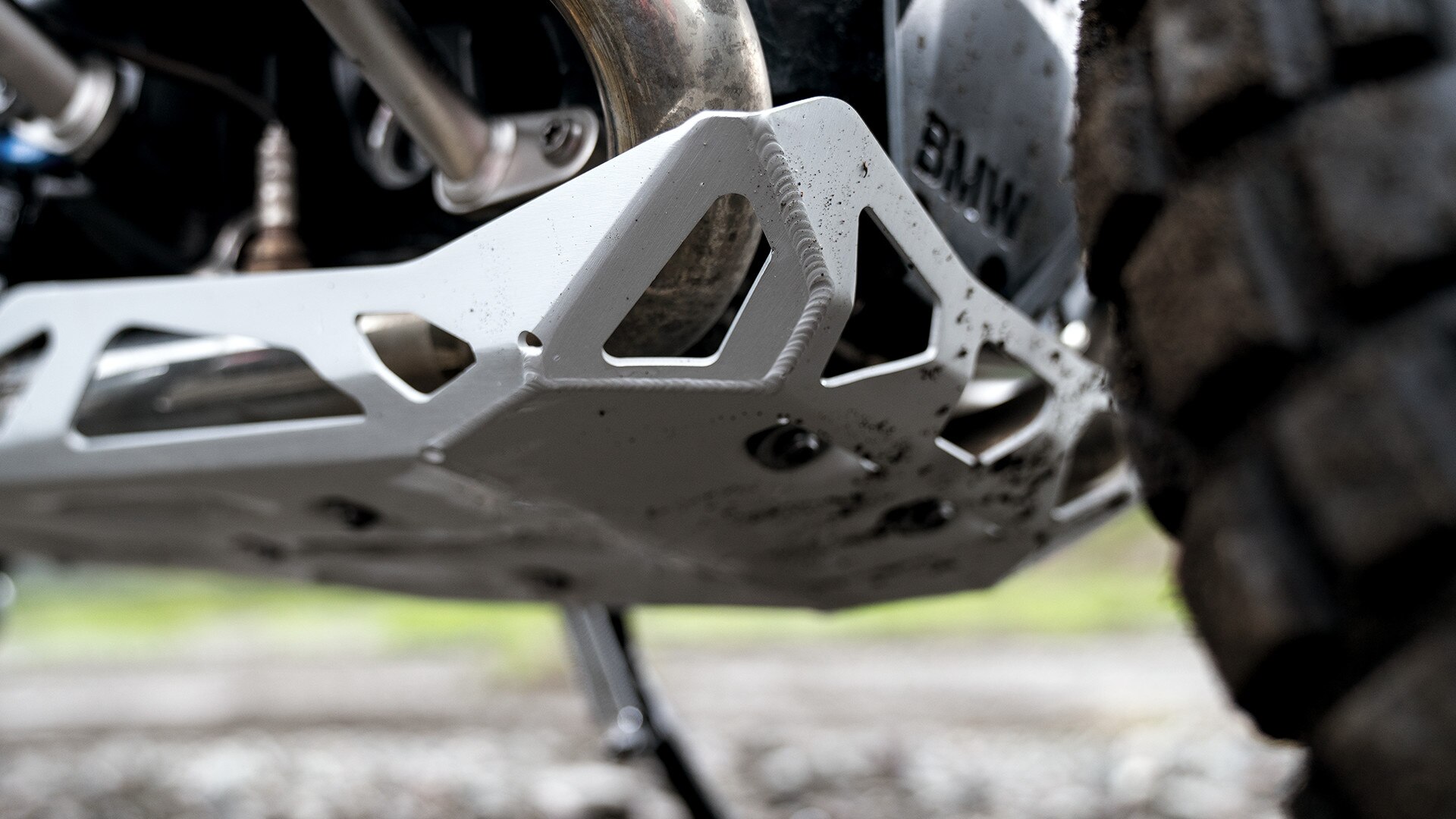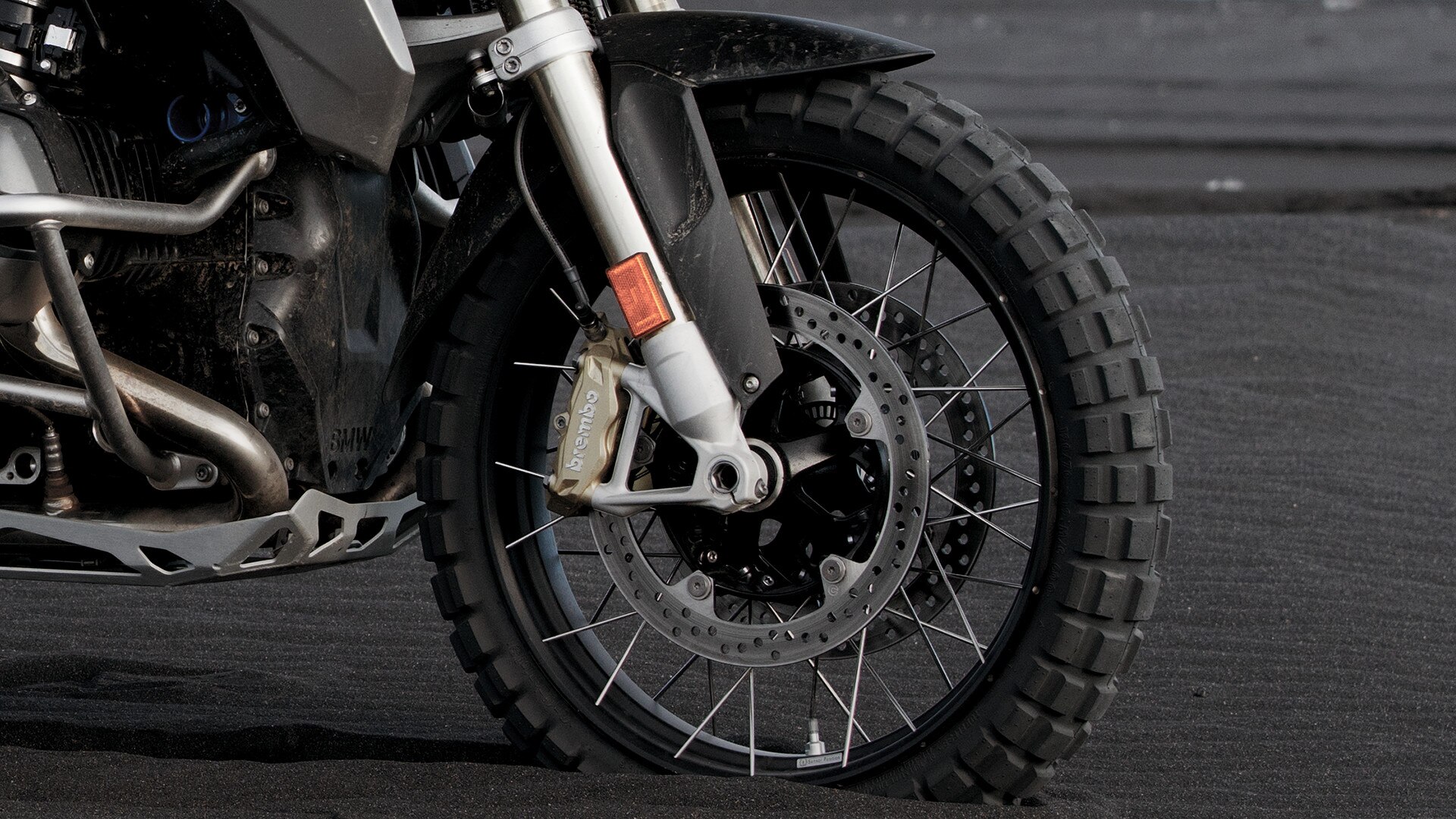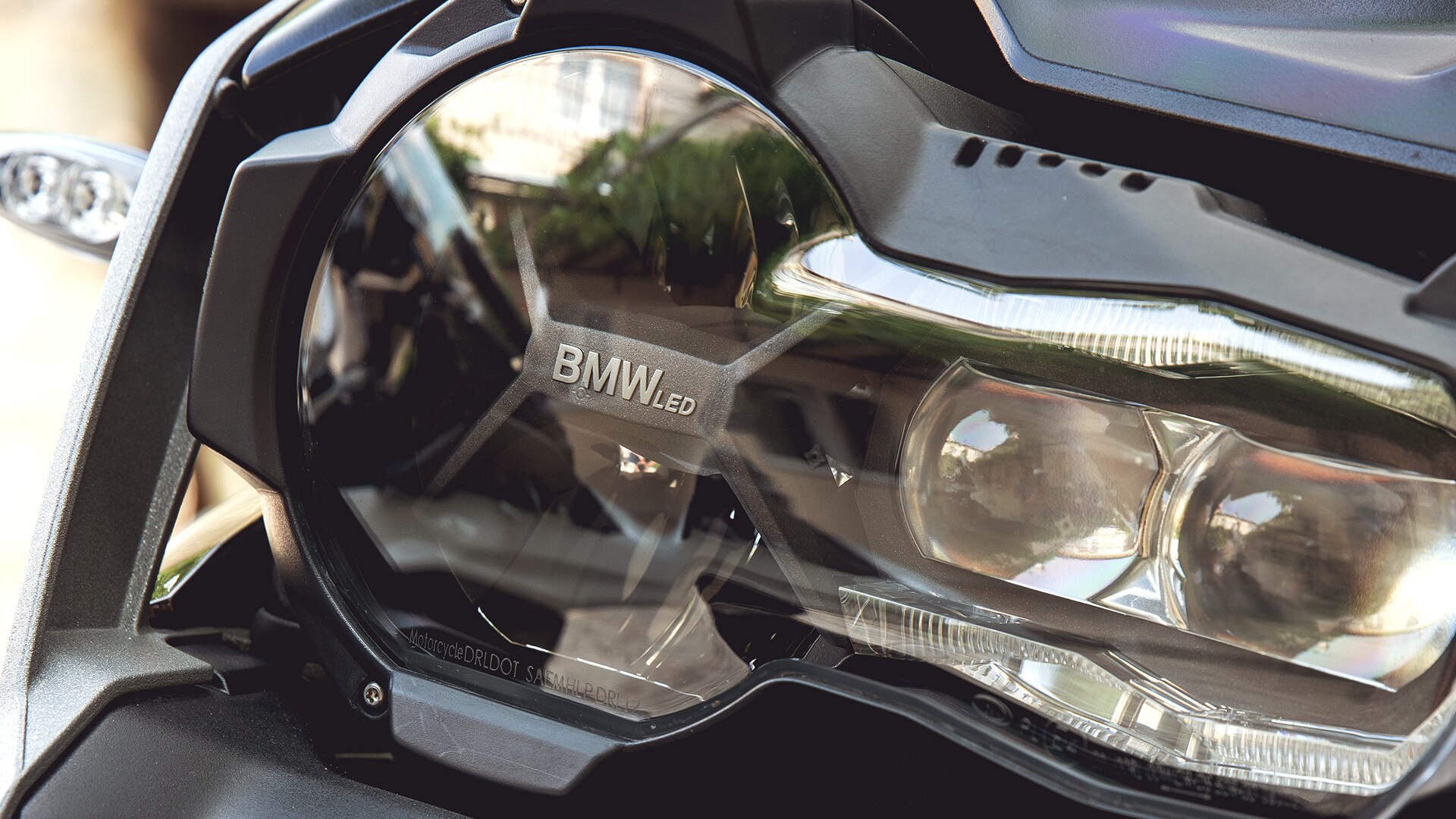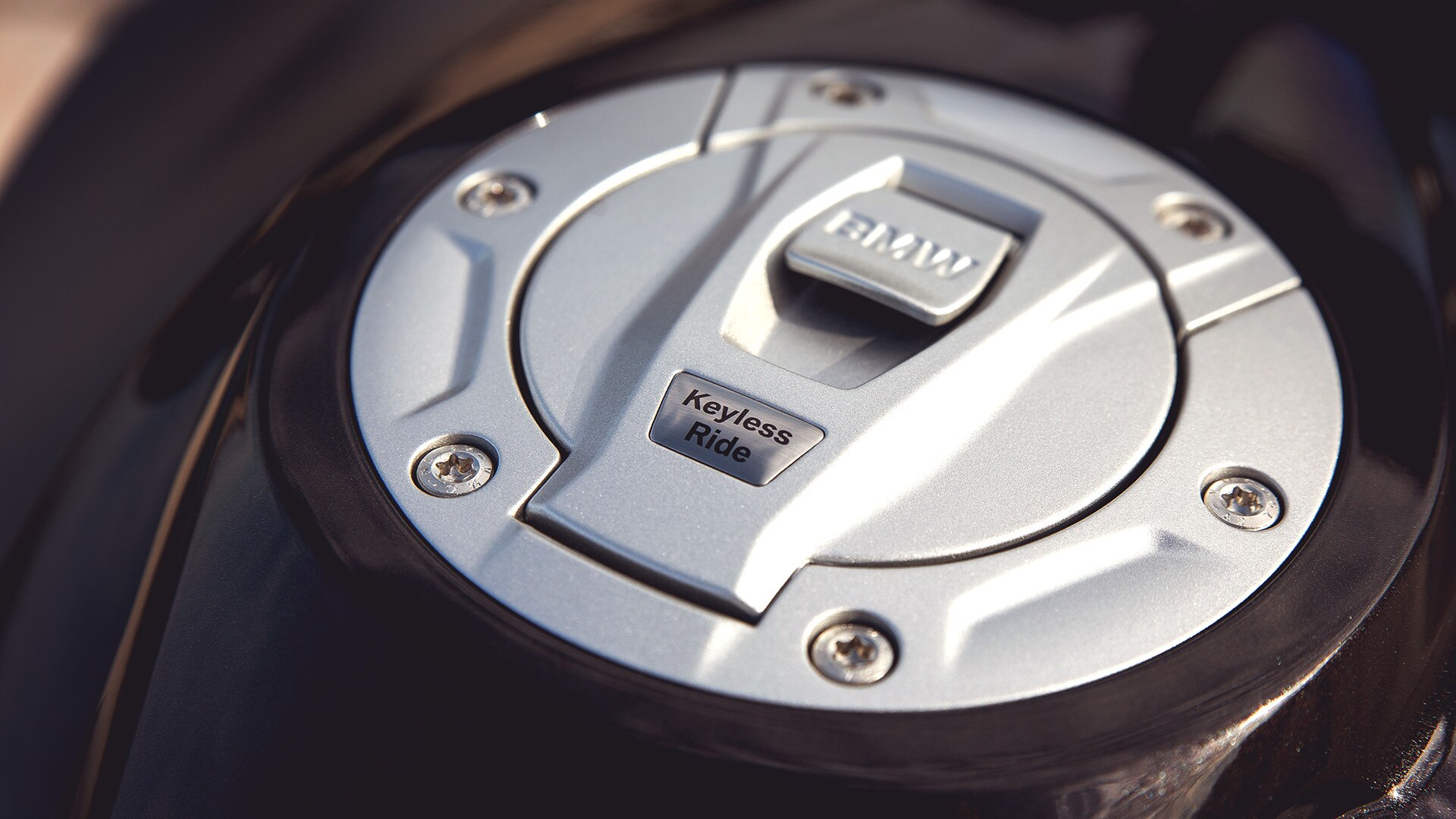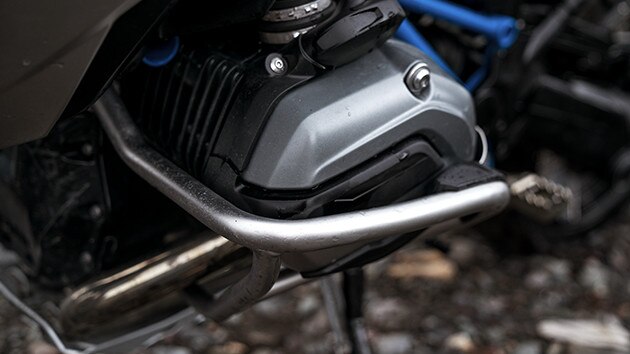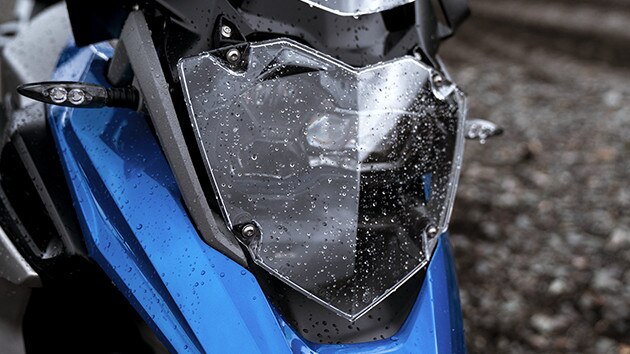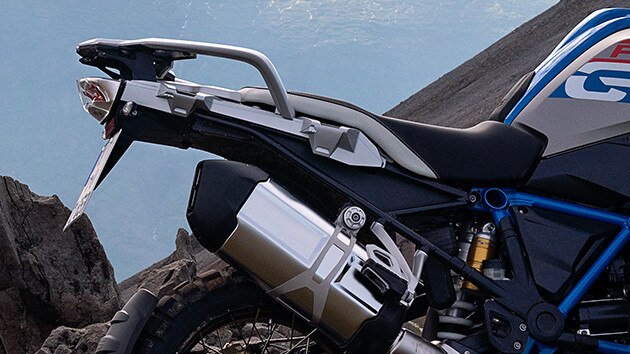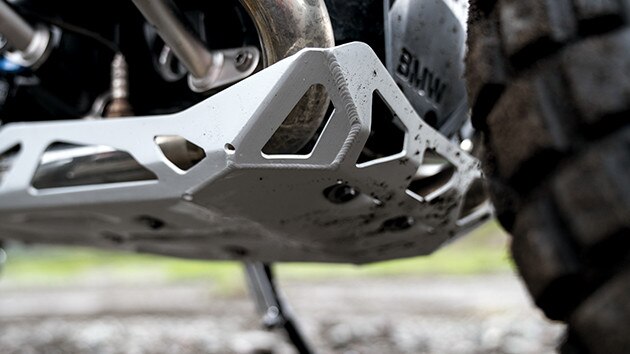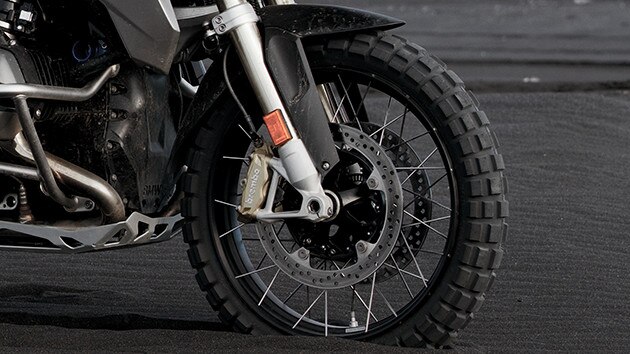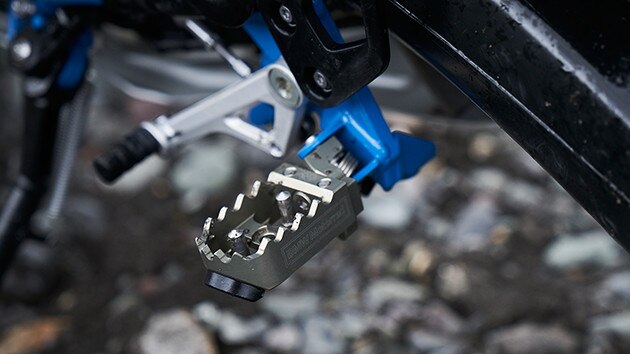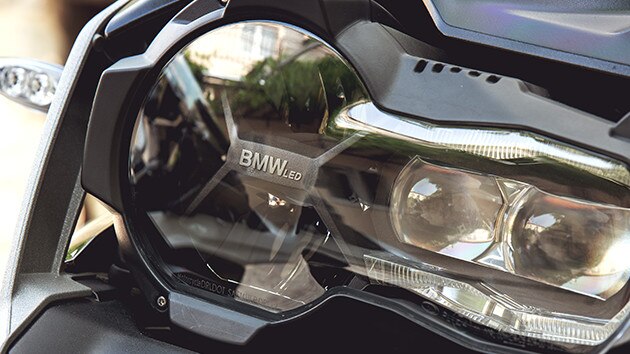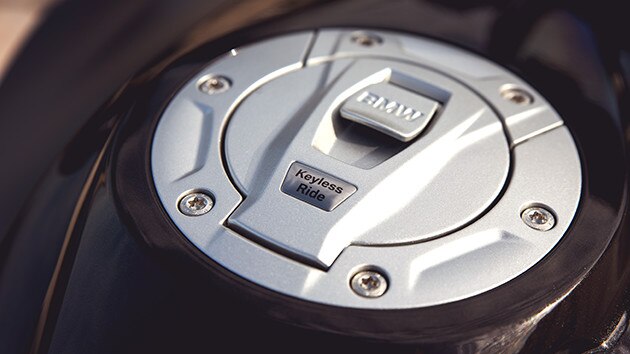 One passion, two styles.
Exclusive style.
Exclusive style.
Do you like being out and about with your R 1200 GS for longer? Then the Exclusive style was made with you in mind. The comfortable seat ensures the required level of comfort – stainless steel and visual highlights for you elegant appearance at every look-out point.
+ Read more
Rallye style
Rallye style
Begging you to go offroad. Uncompromising off-road extras as standard – or as optional extras. The exclusive paint finish for the Rallye style takes its cue fro the BMW motorsport colours. Added to this are black spoke wheels. The Rallye style is made for your off-road adventure.
+ Read more
Three distinctive features.
Three distinctive features.
With the three equipment packages touring, comfort and dynamic, the different character traits of the new GS are intensified. With equipment like Dynamic ESA, the touring package is the perfect choice for every tour. The comfort package meanwhile promises absolute riding pleasure and a boost in safety. It includes among other things the heated grips and the tyre pressure control TPC. And with the dynamic package, you have the Pro riding mode and Pro shift assistant on board: for added sporting character and agility in any riding situation.
+ Read more
Comfort for every type of rider.
Comfort for every type of rider.
Remaining seated is not a problem with the countless seat heights. Even if you are an experienced GS rider and would rather ride around standing up when offroad, it is still worth sitting down. Because the seat heights and various comfort or rally seat benches leave nothing to be desired. From tall and sporty to comfortable and ideal for touring. You will always embark on an adventure in comfort, even as a pair.
+ Read more
Discover the Spirit of GS
And on and on.
The world has no limits.
Pack your bags and embark on a journey into the unknown. We are curious and know that adventure awaits around every corner. Every mile reveals the undiscovered, every second lends us new perspectives, and every sight ingrains a picture in our memory. We grow with every experience, every friendship, and every adventure – that's the #spiritofGS. Get to know the people behind the "spirit of GS". Try out the GS yourself or experience GS Action at GS Experience. And for all those who are currently in the middle of an adventure, tell us about it and share it with us under #spiritofGS.
Read more